Spoiler warning!
This article contains plot details that might give away the book.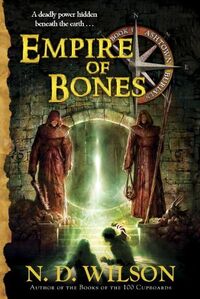 The Empire of Bones (Random House) released in 2013, is the third book in the Ashtown Burials series. In this book, Cyrus Smith and his sister Antigone Smith are trying to discover what they have inherited from their godfather, William Skelton. Them and their friends are all that stand between Radu Bey opening The Burials and Dr. Phoenix taking over the world. 
Ad blocker interference detected!
Wikia is a free-to-use site that makes money from advertising. We have a modified experience for viewers using ad blockers

Wikia is not accessible if you've made further modifications. Remove the custom ad blocker rule(s) and the page will load as expected.