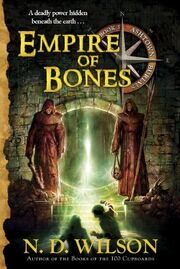 The Empire of Bones is William Skelton's large collection of artifacts, allies, weapon's, and wealth. Upon his death he gave it to Cyrus and Antigone Smith. The third book in the Ashtown Burials Series is named after it. 
Write the first section of your page here.
To Antigone Elizabeth and Cyrus Lawerence, 
I leave you this, my Empire of Bones. Keep it tight to yourselves. Secret. You hold the Dark Tooth, and no one, no one, must know that you possess it. If Ashtown grows unsafe, run and don't ever look back. The O of B has been dying since your father was a kid, but if you can keep the tooth hidden, the Order might still win its war with Phoenix. Or it won't, but at least you'll be breathing. Every little thing I collected in my outlaw years is charted in this map. All of it is yours; allies and artefacts, weapons and wealth, enough hidden paths and hidden to last you through lifetimes of running. The keys I gave you will open every door. Do not use the keys to steal, or they will turn against you. When more is needed than keys, consult my ink bones. I've made notes of which bones will help you. Look closely. Trust no one but the caretakers named here. They are all staunch outlaws, haters of Phoenix as will as doubters of the Order. Tell them nothing about what you carry. Horace will serve you faithfully. Rupert Greeves is honest, but a fool who still believes the Order will stand for the good when blood begins to spill. I have left anothe globe for him; every little bit I learned about the holdings of that devil, Phoenix. He must be hunted now and put down before he grows.
                                                Be good. Be brave. I wasn't.
                                                                      Billy B
S.S. Fat BettyEdit
Library, Armory, Fuel
Ms. Lemon Chauncey, Sage.
14.713791, 160.587158 (Aug.-Nov.)
Location: South Pacific, near an island, on a boat
150 lbs Gold, Boat, Quiet
Location: House on a mountain
ChicomoztocEdit
Relics, Plane (small), Weapons (Order Banned), Jeep, Fuel
Leopold Montoya, Sage (Expelled)
Location: A cave in Mexico
60 lbs Gold, 500 lbs Silver, Dracul Gin, Death Thread, Curses, Forbidden
Cryptkeeper Needed (Monasterboice, Ireland. Right Clavicle)
Location: Lighthouse in Istanbul, Left Clavicle
Ad blocker interference detected!
Wikia is a free-to-use site that makes money from advertising. We have a modified experience for viewers using ad blockers

Wikia is not accessible if you've made further modifications. Remove the custom ad blocker rule(s) and the page will load as expected.